A Different Fastener Distributor
We endeavor to go beyond the basic definition of a fastener distributor – doing more than supplying a product. Our goal is to create solutions for our customers. Whether that means creating custom packaging, implementing a VMI program, or getting a shipment out on time; Infinity fasteners will listen and give you a solution.
Shared Values
Our company values are based on a fundamental understanding: Philosophy of quality and service can only be embraced when a values-based operating system is in place. Therefore, we have structured our company to center on the needs of our customer; as well as the support processes of our vendors and employees. By combining effective work processes with a committed workforce, we can achieve anything. Infinity Fasteners offers everyone the opportunity to perform to their full potential.
Truth- Treat Others with Uncompromising Truth
Trust- Trust Your Associates
Mentoring- Mentor Unselfishly
Openness- Be Receptive to New Ideas
Risk Taking- Take Personal Risks for the Good of the Organization
Giving- Give Credit Where it is Due
Honesty- Be Honest in All Dealings
Caring- Put the Interests of Others Before Your Own
Integrity- Firm Adherence to Moral and Artistic Values
Accountability- Accept Responsibility for your Actions, Living up to Your Commitments
Quality Policy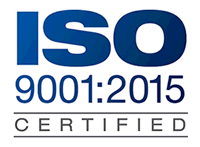 Infinity Fasteners adheres to a "whatever it takes" attitude to provide exceptional quality products and services to our customers. "Exceptional quality" includes providing the correct product, on time, every time, and the services that help our customers achieve their goals. Infinity Fasteners also follows a Shared Values Philosophy that frames our "whatever it takes" attitude.
Infinity Fasteners completed the ISO 9001:2015 audit and is proud to be ISO certified. We are dedicated to maintain and certify our high standards of excellence, delivering accurate and quality service with every order.